Champagne Meteyer
Since 1860, Champagne Météyer has been producing a high-quality, terroir-based Champagne in keeping with tradition. Their vineyards, located in the heart of the Marne Valley, stretch along the southern slopes of the Champagne Tourist Route.
Useful informations
Epicurean discovery
A taste for Excellence and a sense of the Essential
Since 1860, Champagne Météyer Père & Fils has been producing Champagne du Terroir in the Marne Valley. Today, this family business is run by Franck Météyer, the 5th generation of authentic and passionate independent winegrowers. He practises his passion alongside his wife, Anna.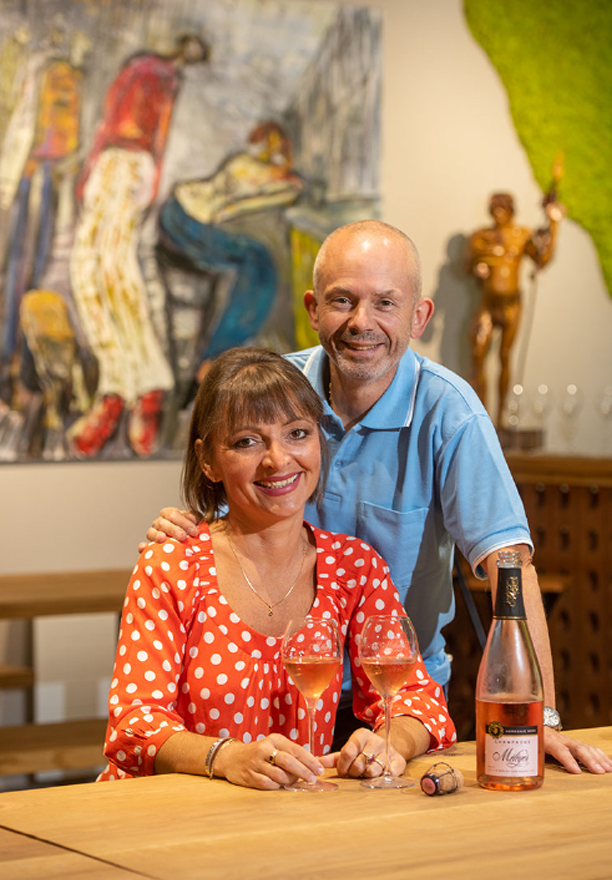 The hillside of Trélou sur Marne, with its clay-limestone soil, southern exposure and special microclimate, produces grapes of rare richness and aromatic complexity, which are omnipresent in Franck Météyer's Champagnes. Attentive to the environment, Franck Météyer works his vineyard with respect for Nature. His vineyard is certified HVE (High Environmental Value).
Attached to the teachings handed down by his ancestors and a fan of simple things done well, Franck is a master craftsman of the three Champagne grape varieties: Meunier, Pinot Noir and Chardonnay. Meunier, the emblematic grape variety of the Marne Valley, accounts for 60% of Météyer's vineyards. Pinot Noir accounts for 25% of Franck's vineyard. Chardonnay accounts for 15% of the vineyard. Located on the Champagne Tourist Route, in the heart of the in the heart of the Marne Valley, Maison Météyer offers a rich wine-tourism offering that stands out for its originality and diversity,!
Scheduled to open in July 2023
All our services available
pedestrian path
Visit and tasting of the local production